✿¸.•´ི♥All About Me♥ྀ `•.¸✿
✿¸.•´ི♥Sexy Ash♥ྀ `•.¸✿

Mackay, QLD, Australia
Heya..Im Sexy Ash and im addicted to psp heehee.. ive been psping for about 5 or so yrs now and i love it.. Im a mum of a beautiful 5 yr old Hannah and she occupies most of my time. So i use psp to escape lol. Here ull find all my Tuts and Temps. If you have any questions please feel free to ask me!!
View my complete profile

✿¸.•´ི♥TOU♥ྀ `•.¸✿
Please respect the time and effort that goes into these tutorials.

The creation, concept, and ideas of these tutorials is of my own imagination and design.

Should anything resemble another tutorial, this is only pure coincedence.

DO NOT copy my tutorials anywhere on the web or claim as your own!

I DO NOT give permission for my tutorials to be translated.

Please NO hotlinking, this is bandwidth theft!

DO NOT use my tutorials/ideas/supplies for commercial use or any other monetary gain









✿¸.•´ི♥Lables♥ྀ `•.¸✿

✿¸.•´ི♥Music♥ྀ `•.¸✿

Friday, July 24, 2009
7:27 PM |
Posted by ✿¸.•´ི♥Sexy Ash♥ྀ `•.¸✿
|
Edit Post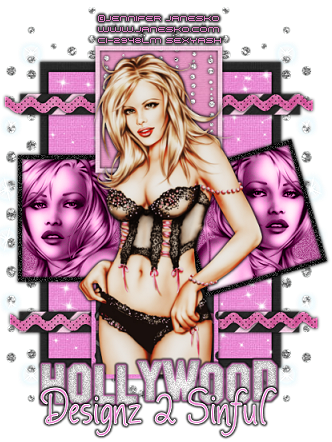 This tutorial is for those that have a working knowledge of Psp.
Supplies needed:
Tube of choice. I'm using the artwork of Jennifer Janesko. You have to purchase a license to use her work
Here
She's A Star Scrapkit - You can purchase this kit from
Here
Template # 67 by Melissa - download for free from her blog
Here

ok here we go...

Open your template in psp and change the canvas size to 600 by 600 to give you more room to work.

Then useing either colours or a scrap kit of choice fill in all the shapes and borders on you template.

Now useing youe tube of choice add it to your template then add a dropshadow.

Then select one of the smaller squares and fill it with a colour or paper of choice then add you tube invert and delete. I added noise to my colour but thats totally upto you.

Now once youve done that to both smaller squares go to your right hand side and double click on the layer with the tube in the squares ans change the blen mode to Luminance (legacy). Do that with both sides.

Now useing your elements of choice dress up your tag. Note i used dangle diamonds, sparkles, diamonds in the background and the ribbons across the thin rectangles.

I also added word art to the bottom on my tag and added noise and then added a gradient glow of pink and black to it to make it pop.

Add your copyright and license number and name
Then to save with a transperent background you just hide the white background - merge visable - delete the white background - then save as .png
Finished
Thankyou
This tut was created on July 2009
Labels:
Pink Princess Scraps - Tutorial